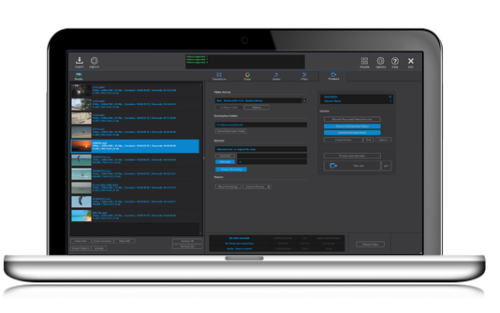 The best pro video tool.
Get your videos perfectly corrected
ready for editing or publishing.
High quality transcoding and complete video transformation with smart batch processing.
Supports all video standards SD/HD/4K/8K, SDR and HDR, NTSC and PAL.

Copyright © 2020 Acrovid. All trademarks are property of their respective owners
Acrovid and Intertake are trademarks or registered trademarks of Acrovid, All other trademarks or registered trademarks like Adobe Premiere, Dacinvi Resolve, Avid, Avid Media Composer, ProRes, DNxHD, GrassValley, NVIDIA,
CUDA,Intel, Quicksync or Cineform mentioned in this document are property of their respective owners. Reference herein does not constitute or imply affiliation with our company, endorsement, or recommendation.
Sign up for our newsletter to receive
news and special offers



Intertake supports high quality edit friendly and consumer formats, AVI, MOV, MXF Op-1a
and Op-Atom, in 8-bit and 10-bit, with 4:2:0, 4:2:2 and 4:4:4 chroma, encoding to
DNxHD/HR, Cineform, uncompresed, and many more pro formats.
Supports MXF Op-Atom DNxHD/HR and XDCAM, fully compatible with best NLEs
including Avid Media Composer, Davinci Resolve or Adobe Premiere, also supports Avid
Markers import / export and manage.
Includes GPU encoding with Nvidia and Intel QuickSync for h.264/AVC and h.265/HEVC in
8-bits and 10-bits, with HDR10 metadata.
Intertake supports also video rewrapping without re-encoding to mov, mp4 and MXF.
Fast encoding to pro and consumer formats
Import any video standard, convert to any video standard, in one click
Perfect standards conversions with smart batch processing
•
Standards conversions are performed using optical flow processing to get the best
conversion quality, with automatic audio pitch adjustment.
•
Supports any video stardard or non standard format, in SD/HD/4K/8K, NTSC or PAL,
any resolution, any aspect ratio, any framerate, interlaced or progressive.
•
Upscale and downscale to SD, HD, 4K and 8K.
•
Chroma conversion between 4:2:0, 4:2:2 and 4:4:4.
•
Bitdepth upscaling and downscaling with dithering.
•
Transform interlaced to progressive or progressive to interlaced with high quality
motion adative deinterlacing. Supports TFF/BFF conversions.
•
Frame rate conversion or correction and video resample can be set independently.
Automatically convert different sources to match your project format,
speeding up the edition and avoiding low quality conversions.
Transform 4K to pristine HD in 8-bit/10-bit
Shoot in 4k, and get higher quality HD than shooting HD in camera.
Downscaling algorithm is designed to keep the small details without over
sharpening.
When downscaling 4k to HD 1080p or 1080i, the videos get crisp luma and
real 4:2:2 or 4:4:4 chroma.
Aspect ratio conversions, zoom and rotate
Intertake features aspect ratio conversions with visual user interface to adjust exactly the
final video.
Supports any standard or non standard aspect ratio conversion, for example from SD 4:3
to 16:9, with square or non square pixels, vertical ratios like 9:16, and cinema aspect ratios
like anamorphic, 2.35:1 or 1.85.1.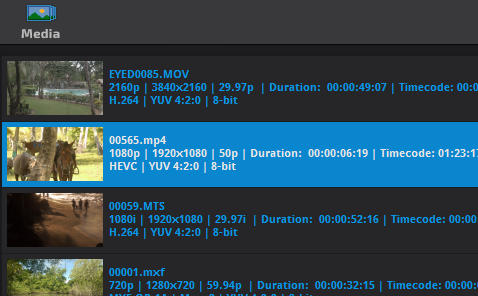 Powerful smart batch processing
Convert video standards, correct or convert frame rates, apply effects and filters or LUTs to
several videos with smart batch processing, the best settings are automatically configured for
each video.
When converting video standars, you can import your videos in the same or different video
standards, SD/HD/4K/8K, PAL or NTSC, interlaced or progressive.
Just select a output standard, for instance 1080p24, and all the videos will be converted to
1080p24 using the best conversion method for each video. The frame rate and dimensions can
be converted separately.
The join mode allows to join several videos with the same or different standars automatically.
Advanced Pro color correction with real time preview
Intertake features a new color correction engine focused on speed and quality.
The user interface allows direct access to all the controls , waveforms and
scopes, and the LUT manager, without entering in complicated menus.
All the affects can be previewed in real time, whithout pre-rendering, including
the LUTs and the gamma and color space conversions, along with the
waveforms, scopes and histogram you can fast and accurately get the perfect
color correction and grading.
The professional color correction tools include:
· 3-way tool: Lift, gamma and gain controls.
· RGB color and saturation curves.
· RGB Offset and contrast.
· White balance.
· Color wheels.
· Controls for exposure, temperature, saturation, HUE, highlights, midtones,
shadows and sharp/blur.
Color correction and grading in SDR and HDR
Apply 3D LUTs with the LUT manager
Gamma and color space conversions
Support for more than 60 formats and cameras
The LUT manager features a easy to use interface to organize and add one or several 1D or 3D LUTs to your videos.
Features fast previewing so you can quickly compare the effect of different LUTs. Apply different LUTs to each video or
the same LUT to tens or hundreds of videos.
The same LUT can be applied to all imported videos, or a different LUT can be applied to each video.
Most common LUT formats are supported like .cube, .3dl, .look, or .ccc.
All color correction filters can be exported to a 3D LUT file in .cube format to use with Intertake or any other video software.
The generated 3D LUT includes all the color correction filters,
the external LUTs applied in the LUT manager,
and the gamma and color space conversions selected.

Convert video gamma and color space from more than 60 formats and cameras in just one click.
The gamma and color space conversion works in real time, just select the input and output format and activate the conversion.
The gamma conversion is fully integrated in the color correction engine with ContinuousEffect, so if the selected gamma conversion clips the highlights or
the shadows, the levels can be recovered back to the video by applying a filter.
Any conversion between the supported formats is supported, for instance rec.2020 to rec.709, panasonic v-gamut to rec.2020, or sony S-gamut3 to Alexa
wide gamut.
· Gamma conversions supported formats include :
Rec.709, HLG Hybrid log gamma,
Rec.2100 ST2084, Panasonic V-log, Sony S-log, Sony S-log2, Sony S-log3, Sony HLG1, Sony
HLG2, Sony HLG3, Canon log, Canon log2, Canon log3, DJI D-log, GoPro Protune, Fujifilm F-
log, Blackmagic cameras log, Arri LogC, Cineon, Bolex Log, Rec.709(800%), DCI Log, RED
cameras log.
· Color gamut conversions supported formats include :
Rec.709, Rec.601 NTSC, Rec.601
PAL, Rec.2020, Sony S-gamut, Sony S-gamut3, Sony S-gamut3-cine, Panasonic V-gamut,
Canon cinema gamut, Canon DCI-P3+, Fujifilm F-log gamut, DJI D-gamut, Protune gamut,
Blackmagic cameras, Arri Alexa wide gamut, Bolex Wide Gamut, Cinelog-C, RED cameras,
ACES.AP0, ACES.AP1, P3-DCI.
Audio conversions and filters
Convert the audio characteristics like sample rate, bits per
sample and audio channels.
Easily remove audio tracks and add external audio tracks to
your videos
When converting the video frame rate, the audio is pitch is
automatically corrected to match the new frame rate.
With the Audio loudness normalization filter the videos are
ready to comply with the audio loudness restrictions for
broadcasting or online sites like YouTube or iTunes.
Pro features and filters to fine tune your videos
Remove unwanted noise from your videos while preserving the fine
detail.
New XM Denoiser is integrated in the workflow, and can be configured
in the easiest way using a visual user interface with real time preview.
Frame accurate video trimming
Simply select one or more video segments from the original video, the
output video will be cut accurately from the first to the last frame
selected. Frame accurate trimming works on most video formats
including h.264/AVC and h.265/HEVC.
The video segments can be joined or encoded separately.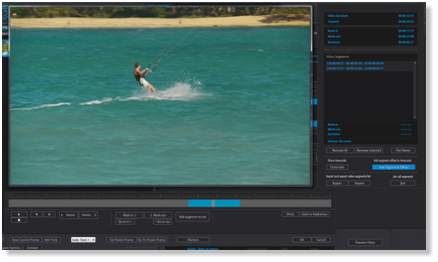 Burn-in filter for timecode, frame number,
file name and custom text
Intertake includes a fully configurable burn-in filter,
the user can add timecode, frame bumber, file name
and custom text to your videos.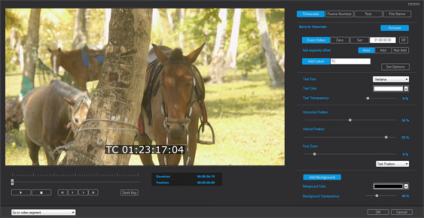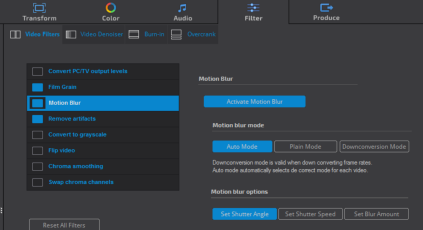 Video filters for fine tuning
Convert between full and video levels, film grain,
remove artifacts or add motion blur to your videos in
just one click.
Conversions to 24p with film blur
Get perfect cinematic effect with the motion blur filter.
Convert from any frame rate and shutter speed to cinematic 24p with 1/48
shutter speed blur.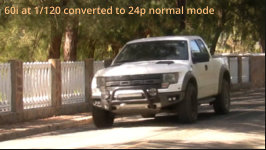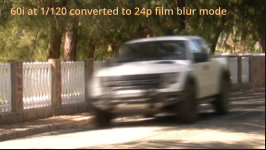 Multi core CPU support: process several videos
simultaneously
Processing functions support advanced CPU instructions, SSE3/AVX/AVX2/AVX-512, for
fastest processing on newest Intel and AMD processors.
CUDA and OpenCL GPU processing for compatible graphic cards.
The job server can process up to 4 videos simultaneously,
depending on the output format and processing settings the
processing speed increases up to 2x-4x.

Blazing speeds, 512-bit CPU and GPU processing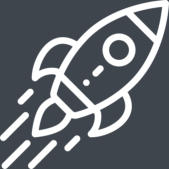 Intertake features high quality processing technologies to produce
crisp videos ready to edit or distribute.
Clean and easy to use interface, packed with useful features
Import one, tens or hundreds of videos
Import your videos in any format or standard, SD/HD/4K/8K , SDR and HDR, NTSC
and PAL.
Supports a broad range of pro and consumer formats and containers like AVI,
MTS, MOV, MXF, MP4, MKV, h.264, h.265, pro formats in 8,10,12 or 16-bit like
DNxHD/DNxHR, ProRes, VC-5/Cineform or Grass Valley, image sequences, and
video cameras formats from consumer to pro models, including HDV, AVCHD,
DVCProHD, XDCam,AVC-Intra, XAVC, or HDR log formats from Canon, Panasonic,
Sony, GoPro, Blackmagic and other pro cameras.
The processing settings can be configured easily with a few mouse clicks, or
by using your favorite presets. The effects and filters can be applied to all
videos or configured separately for each video.
Select the output video format and encoder, and press the start button.
The job server starts your job, and you can continue preparing your
videos and adding more jobs.
All in one step! standards conversion, frame rate conversions and
corrections, resample, color correction and grading, audio conversions,
video denoise, filters, slow motion and much more.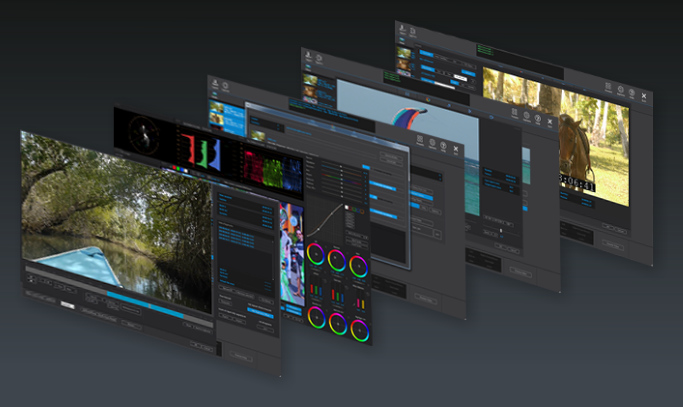 Intertake is a stand alone video tool, featuring from fast transcoding to complete
video transformation.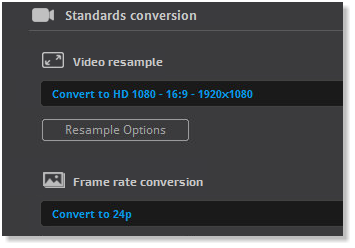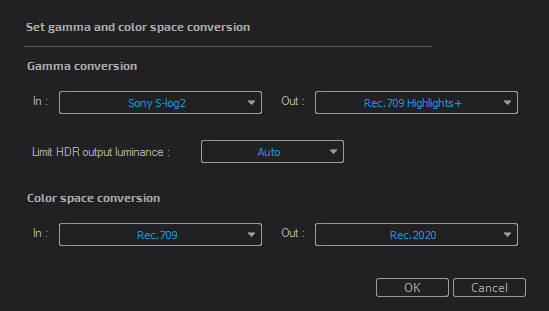 Color correction features SDR and HDR modes.
The videos can be previewed in real time as SDR or HDR.
Just select a gamma preview mode like SDR or ST2084 1000 nits.
Color space preview mode supports rec.709 and rec.2020.
Gamma modes include SDR, and HDR in 500, 800, 1000, 2000,
3000 and 4000 nits.
HDR / SDR tonemapped conversions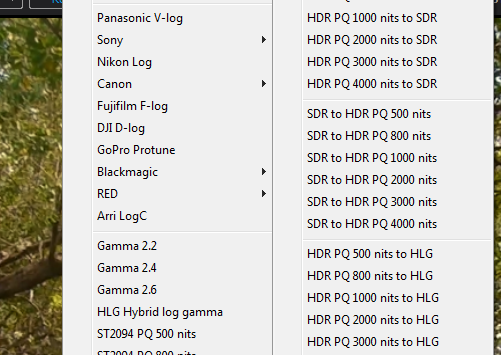 Intertake features tonemapped SDR to HDR and HDR to SDR high quality conversions:
· Converts any SDR source, SD, HD, 4k, interlaced or progressive to pristine HDR.
· Converts HDR to any SDR format: SD, HD, 4k, interlaced or progressive.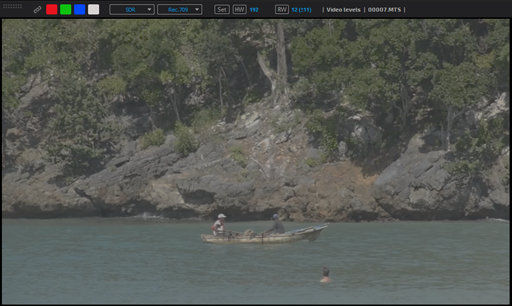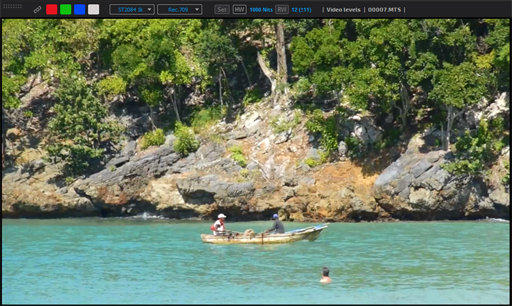 HDR10 metadata with MaxCLL/MaxFALL calculation and nits limiter
HDR10 metadata can be imported, modified or created for HDR HEVC videos.
MaxCLL and MaxFALL values can be set or calculated on the fly when rendering the
videos.
The nits limiter allows to limit the luminance maximum values to 500, 800, 1000, 2000,
3000 o 4000 nits.